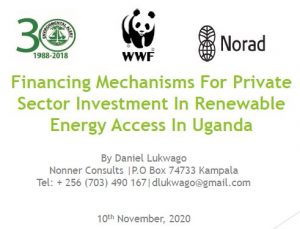 Financing Mechanisms For Private Sector Investment In Renewable Energy Access In Uganda,10th November, 2020 By Daniel Lukwago
---
Centenary Bank Renewable Energy Financing, Nov 2020
---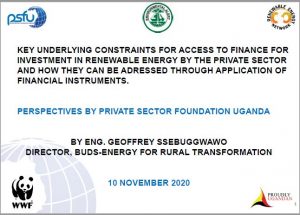 Key underlying constraints for access to finance for investment in renewable energy by the private sector and how they can be addressed through application of financial instruments. Nov 2020
---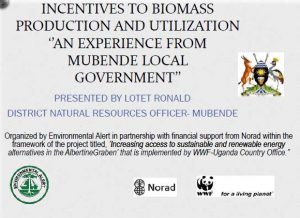 Incentives to biomass production and utilization ''an experience from Mubende local government'' presented by Lotet Ronald district natural resources officer- Mubende,2020
---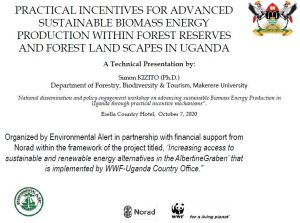 Practical incentives for advanced Sustainable biomass energy Production within forest reserves and forest landscapes in Uganda, A technical presentation by: Simon Kizito (Ph.D.). Department of Forestry, Biodiversity & Tourism, Makerere University
---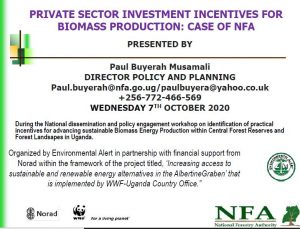 Private sector investment incentives for biomass production: case of NFA presented by Paul Buyerah Musamali, Director Policy and Planning,2020
---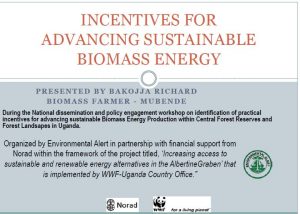 Incentives for advancing sustainable Biomass energy, presented by Bakojja Richard, Biomass farmer – Mubende
---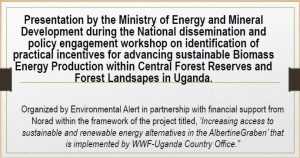 Presentation by the Ministry of Energy and Mineral Development during the National dissemination and policy engagement workshop on identification of practical incentives for advancing sustainable Biomass Energy Production within Central Forest Reserves and Forest Landscapes in Uganda, 2020.
---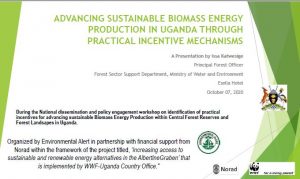 Advancing Sustainable Biomass Energy Production in Uganda through Practical Incentive Mechanisms,2020
---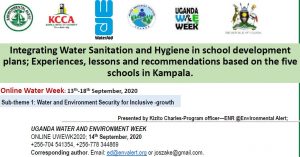 Technology Needs Assessment for Climate Change Adaptation in the Forestry Sector in Uganda. Online Water Week: 13th-18th September, 2020, By: Zake J, Namirembe, S., Kasule D., Onapa, O. M.
---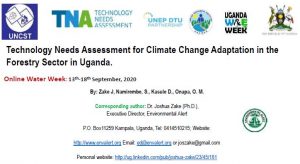 Integrating Water Sanitation and Hygiene in school development plans; Experiences, lessons and recommendations based on the five schools in Kampala. Online Water Week: 13th-18th September, 2020. Sub-theme 1: Water and Environment Security for Inclusive –growth, Presented by Kizito Charles-Program officer—ENR @Environmental Alert
---
The second Uganda Water and Environment Week (UWEWK) 2019 presentations,
Presentations by Environmental Alert

---
Energy and Minerals week 2020, 1-4th December 2020
The event took place from 1st – 4th December, 2020, and due to the impact of Corona Virus Disease-19 (COVID-19), the Energy & Minerals Week 2020 took place virtually under the theme, 'Energy & Minerals for Industrialization, Job Creation and shared prosperity'. The focus for this year's Energy & Minerals dialogue is on Efficiency and Sustainability as well as building market for the products and services within energy and minerals sector.
Articles
ENCOURAGING SWITCH TO BIOGAS THROUGH PRAYER, By Kimbowa Richard, Uganda Coalition for Sustainable Development / INFORSE East Africa-Member of the Renewable energy CSO Network hosted by Environmental Alert.