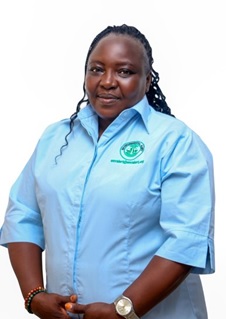 Jacinta is the Chairperson of the Resource mobilization and investment committee, member of the programs committee at EA Board of Directors.
Ms. Jacinta has work experience that spans over 20 years in the Development Sector with a bias to Water, Sanitation and Hygiene (WASH) programming. Currently she is the Country Team Lead and Project Manager for SNV USA/DevWorks International team in Uganda for the 5-year USAID funded Uganda Sanitation for Health Activity (USHA) consortium project, where she provides technical leadership and coordination to ensure the delivery of USHA's outputs implemented through a blend of technical assistance and grants under contract. She has demonstrated experience and expertise in business strategy development; programme design and management; office administration and management; research; partnership building and networking; gender and social inclusion; and coordination with strategic partners such as Line Ministries, District Local Governments (DLGs), Implementing CSO Partners and Donors. She also has proven experience in fundraising and financial management and control; systems strengthening; careful selection & building multi-cultural people development teams; and setting up of ICT-enabled monitoring & evaluation systems for effectiveness tracking and reporting and adaptive learning.
Prior to joining USHA, Ms. Jacinta worked in leadership positions as a middle and senior manager with both national and international agencies such as WaterAid, SNV Netherlands Development Organisation, Plan International Uganda, and Soroti Catholic Diocese Integrated Development Organization (SOCADIDO). She also worked as a Senior Consultant with Athena Infonomics, an international Consultancy firm and successfully conducted consultancies for agencies such as the Dutch WASH Alliance, GIZ, Iceland Embassy, UNICEF and Kampala Capital City Authority-KCCA. Over the years she has worked with organisations to improve lives of thousands of vulnerable communities and children especially in schools across different districts and regions in Uganda. She is also well travelled in and outside Africa.
She holds a Master of Science Degree in Water and Environmental Management from Loughborough University in the UK; a Master of Arts Degree in Sociology and a Bachelor of Arts degree in Social Sciences, both from Makerere University Kampala. Additionally, she has attended short-term professional trainings in Organizational Development (OD/ID); Project Cycle Management; Influential Leadership; Communication skills; Participatory Monitoring & Evaluation; Finance for Non-finance Managers; and Fundraising and Grants Management, among others.