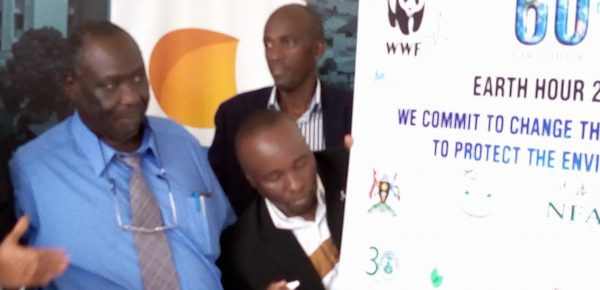 On 14th March 2019, World the Wide Fund for Nature and Next Media Services together with the Ministry of…
On 14th March 2019, World the Wide Fund for Nature and Next Media Services together with the Ministry of Water, Environment &Natural Resources, National Forestry Authority, National Environment Management Authority, Uganda Wildlife Authority, CocaCola, Sites Travel, Barclays Bank, The New Forest Company, Serena Hotels, Fair Ventures Worldwide, Environmental Alert and Capital FM ; officially launch Earth Hour 2019; an environment campaign, the world's largest grassroots movement for the environment.
This campaign is set to once again unite millions of people around the world and in Uganda to show their commitment to the planet and environment conservation.
Dr. Joshua Zake, the executive director of Environmental Alert represented Environmental Alert during the launch.
The inception meeting has been organized to introduce and orient the local leaders as key stakeholders in the   SusWASH project. The main purpose of the meeting is to:
To introduce the project to the local leaders;
To clarify on their role and support required from them during the upcoming community meetings;
To provide an opportunity to identify WASH challenges in their community for subsequent planning.
The ongoing national wetlands policy (1995) review coordinated by the Wetlands Management Department with support of Development Partners and Civil Society Organizations is a great opportunity for articulating emerging issues to come up with practical and effective strategies to save Uganda's wetlands and healthy.
lives for the estimated 45 million Ugandans. For example alternative livelihood and income generation opportunities (such as bee keeping; Eco-tourism; livestock & poultry keeping; Fruit-tree production) in communities to reduce pressure on wetland resources. However, the policy review process should be fast tracked for implementation of interventions for wetlands, protection, conservation and sustainable use.
Besides, the process should consider compressive and effective stakeholder engagement (i.e. consultations and participation) at all levels including the wetlands adjacent communities that are organized as wetlands associations around wetlands of local, national and international importance in Uganda. This is because they interact with the wetlands resources regularly.
For details:- Download