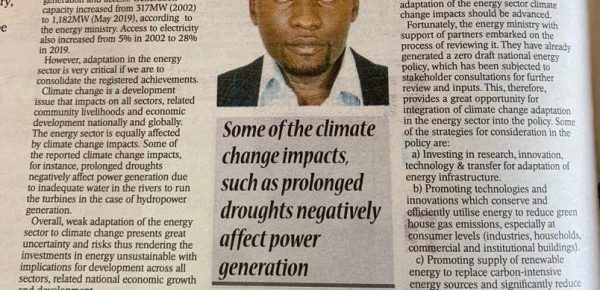 Some of the climate change impacts, such as prolonged drought negatively affect power generation. Published by the New vision…
Some of the climate change impacts, such as prolonged drought negatively affect power generation.
Published by the New vision on 1 Jan 2020, on page 12.
Author:  Dr. Joshua Zake (PhD),
Executive Director of Environmental Alert
Dear Our Esteemed partners,
We have made several achievements and learnt lessons in 2019. These achievements would not be possible without your participation and
contribution as a strategic partner.
Therefore, as 2019 comes to an end, let's celebrate these achievements together. We wish you a Merry Christmas and a prosperous 2020.
From the Executive Director, Board of Directors,  Management and Entire Staff of Environmental Alert.
Environmental Alert (EA) in collaboration with National Environmental Management Authority (NEMA), Ministry of Water and Environment (MWE) and Ministry of Agriculture, Animal Industry and Fisheries (MAAIF); and in partnership with Advocates Coalition on Environment and Development (ACODE), and Nature Uganda, is implementing a project dubbed "Strengthening Institutional Capacity for effective Implementation of Rio Conventions in Uganda".
The Rio Declaration on Environment and Development, commonly known as Rio Declaration, was promulgated at the 1992 United Nations Conference on Environment and Development (UNCED), which was later referred to as the Earth Summit.
The World leaders committed in the conference to 27 principles intended to guide countries for future sustainable development. Thus, the declaration was signed by over 170 countries, including Uganda.
The Rio Conventions entail three Multilateral Environmental Agreements (MEAs) on three critical components of environment and these Conventions include:
United Nations Framework Convention on Climate Change (UNFCCC);
United Nations Convention on Biological Diversity (CBD); and
United Nations Convention to Combat Desertification (UNCCD).
The three Rio-Conventions have been designed for action, monitoring and reporting as individually separate multilateral environmental agreements. This is not withstanding the reality that their outcomes and impact affect a common denominator; human, social and economic livelihoods with the sustainable management and use of the earth planet resources.
Uganda as a signatory is obliged to regularly and timely report to the respective Convention's Secretariat, on the actions undertaken or projects implemented and the progress made towards the realization of set targets as well as challenges and the emerging issues therein.
As part of the efforts to mainstream the implementation of these commitments in respect to Uganda as a UN committed member; NEMA on behalf of Government of Uganda received financial support from the Global Environment Facility (GEF) through the United Nations Development Program (UNDP).
As a result, Environmental Alert received funding from NEMA as a project lead on behalf of the CSO partners to roll out the Rio conventions implementation in the pilot districts of   Buikwe, Jinja, Kayunga, Mukono and Wakiso.
Subsequently, an inception workshop was organized to introduce the Rio Convention Awareness Project to the selected District stakeholders and CSOs with mandates on environment and climate change related program. The inception provided the overall basic understanding of the project but also built the stakeholders commitments and support in rolling out the project across the 5 pilot Districts.
The same space was also used to generate and benchmark the status of Rio conventions implementation among the districts in respect to progress, challenges and opportunities. Thus, several challenges were identified. These include; inadequate coordination among stakeholders in natural resources management, inadequate funding, understaffing, inadequate enforcement of environmental laws and others were capacity related.
The awareness workshop will help to address the cross cutting issues among the 5 districts, but will also seek to build human resource capacity at the district to improve response to natural resource conservation and climate change through durable solution and actions within the overall framework of Rio conventions.
Similarly, the workshop will be used as an avenue or space to identify strategic challenge or issues which require policy attention for dialogue with the line government ministries or department in order to ensure that there is a holistic approach and commitment in addressing matters of environment, desertification and climate change in Uganda amongst others.
It's within this context that Environmental Alert is organizing Awareness Workshop on the three Multilateral Environmental Agreements (MEAs) in respect to   Rio Conventions, in order to build the capacity of District stakeholders on selected key issues/ challenges for implementation and integration into District Development plans and policies.
To create awareness and build the capacity of district stakeholders in achieving the aspirations of multilateral environmental agreements (MEAs) and other government commitments in respect to projects and policy implementation.
The activity is scheduled for Friday 8th/11/2019.
Environment Alert (EA) is implementing a project titled 'Increasing access to sustainable and renewable energy alternatives in the Albertine Graben' that aims at communities adopting sustainable renewable energy alternatives to reduce dependency on biomass for their energy needs. The project is being implemented in collaboration with the World-Wide Fund-Uganda Country Office (WWF-UCO) with financial support from the Norwegian Agency for Development Cooperation (Norad). One of the project outputs is 'WWF and project CSOs have created networks to coordinate civil society engagements at national and local levels.'
In line with this, The Renewable energy CSOs and Network- a loose semi-formal Network was formed in September, 2018 as a coordination mechanisms for a shared and structured engagements agenda with the MEMD and other relevant ministerial departments and agencies (MDAs) to influence access to clean and sustainable management of renewable energy resources.
The Secretariat is hosted by Environmental Alert (EA). However, since its establishment, the Network has never held an AGM for its members.
Therefore, this year 2019 the interim committee alongside the secretariat is planning to hold an AGM to bring together all Network members to update and discuss critical emerging issues pertaining to the Network as well as agree on actionable recommendations to address them.
The purpose of the meeting is to:
To share implementation progress with focus on achievements, emerging issues and future outlook for the Network;
To approve the draft memorandum of principles; strategic plan and network visibility items i.e. the Logo, master slide, and letter head;
To elect the new steering committee;
To provide space for Network members to exhibit their IEC materials so as to enhance members visibility and work across the Network.
The AGM is scheduled for 30th October, 2019.