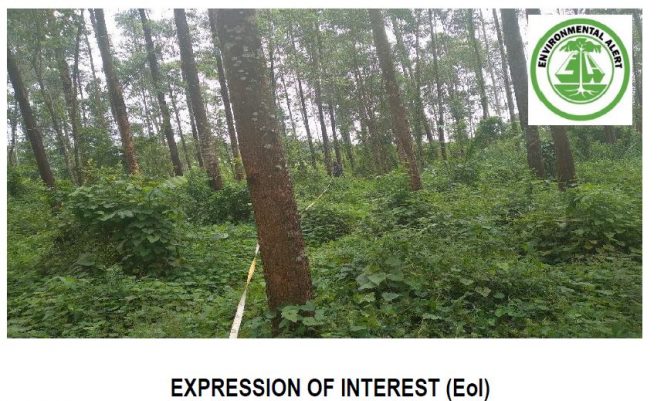 Environmental Alert (EA) is a National NGO headquartered in Kampala and is calling for interested buyers of eucalyptus trees, which can be converted into timber and or electricity poles.
Environmental Alert has a 9.33-acre farm land located at Kyevunze village in Wobulenzi in Luweero district off Bombo Road (The farm is 1Km off Bombo road). On this farm, 3 acres (1.214ha) is occupied by mature eucalyptus trees (Eukalyptus grandis) estimated to be 3,642 trees. The height of the mature trees is averagely 17.7m with the diameter of the mature crop averaged 22.1cm. Each tree is estimated to produce 3 saw logs of 3m length. The overall total wood volume of the plantation on clear felling = 7,710.96m3. There is an estimate of 2,166 trees standing, with an average diameter of 22.5cm and height of 17.7m, taper inclusive that fit well in both electric and building poles. Of which 700 trees stands as electric pole;
In this respect therefore, Environmental Alert through its procurement committee is looking for potential buyers for the trees. All interested buyers should contact Environmental alert through: Ms.   Peninah Atwine 0775119744 and Mr. Henry Kijjambu 0789014628
Or
Submit the EOI physically to Plot475/523, Sonko Lane, Kabalagala, off Gaba Road, P.O. Box 11259, Kampala. The deadline for submission of the bids is Friday 18th June, 2021 before 5:00pm.B:
a) Further discussions will be pursued with serious buyers to visit the trees and also agree on the terms of payment.
b) EA reserves the right to accept or reject any EOI without giving reasons for its decision and will not in any case be responsible or liable for any costs associated with the preparation and submission of the EOI.