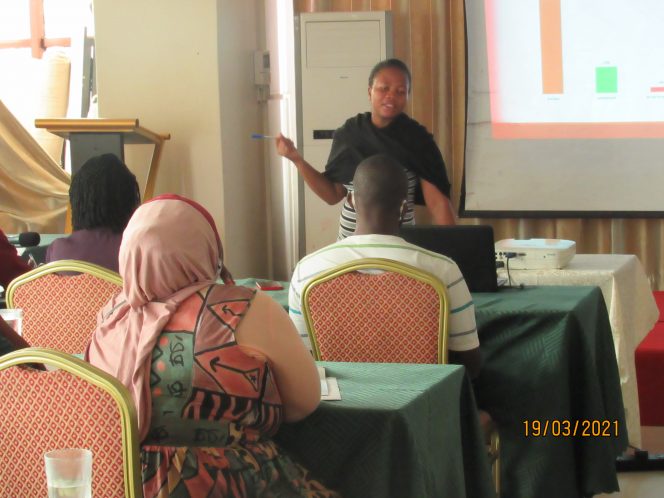 Uganda is one of the fastest growing and urbanizing country in Sub-Saharan Africa. The Uganda Vision 2040 articulates the Country's aspirations to transform to a middle income status country by 2040. One of the key strategic reforms to achieve Uganda's vision 2040 is to ensure universal access to water and sanitation. This is in line with the Sustainable Development Goals (SDG 6) and the human right to safe and accessible water as recognized by the United Nations.
The National latrine coverage has increased from 49% in 1997 to 79% 2018; and only 10% of the population was still living in Open Defecation Free communities by end of 2018. The coverage vary significantly between urban and rural areas.
According to the city wide sanitation mapping carried out by Kampala Capital City Authority (KCCA) in 2017, whilst access to any form of sanitation was 99%, access to basic sanitation that is, the use of improved facilities which are not shared with other households stood at 21%, shared or limited sanitation at 37% and unimproved sanitation at 42%. Clearly unimproved sanitation comprising households that use unlined pit latrines, pit latrines without a slab or platform, hanging latrines or bucket latrines is predominant and indicates a significant gap in attaining the Vision 2040 agenda.
Environmental Alert in partnership with Water Aid is implementing project on Water Sanitation and Hygiene project titled Sustainable WASH (SusWASH) project. This project also supports KCCA directorates for Health, Education and Strategic Planning to include elements that strengthen the sustainability of WASH services within their current plans. The project is implemented in two selected communities of Kamwokya Parish in central division and Kansanga in Makindye division, Kampala and schools of Mirembe primary school, Kansanga seed secondary School, Railway primary school, Nateete secondary school in Rubaga Division and Ntinda School for the deaf in Nakawa division.
This project focuses on two main areas: a) strengthening of School WASH structures including SMCs to support sustainability and ensure that WASH services are inclusive especially for women and girls; b) capacities strengthening of school WASH structures through tailor-made trainings on sustainability of service provision. At the community level, through mobilizing community members and local leaders to spearhead the scale-up of improved sanitation facilities through targeted behavior change campaigns and dialogues.
In 2019, Environmental Alert conducted a citizen satisfaction survey in the parishes of Kansanga and Kamwokya in Makindye and Central Division respectively and results showed a low coverage of the sanitation facilities. It was discovered that about 3% landlords had no toilets for their tenants and for such tenants about 27% resort to open defecation, 6.2% use drainage channels and 4.1% of the respondents use other mechanisms such as the metallic drums dug a few feet in the soil and several households defecate in buckets and polythene bags which are emptied in drainage channels during the rainy season.  Furthermore, there is little empirical WASH data for the tenant community in the project area. Such data should be based on the following parameters: toilet coverage, number of tenants per Landlord, solid waste collection/generation, faecal sludge collection/generation. This data if generated and synthesized is useful for decision making and implementation response actions by the duty bearers (such as KCCA) and other community development players.
As a result, Environmental Alert commissioned a consultant to design a landlord-tenant inventory template. The tool will be used to capture issues related to WASH in the selected zones of Sebuliba in Kansanga and Kisenyi II in Kamwokya Parish.
Environmental Alert went ahead to constituted a team of research assistants comprising of VHTs and local leaders to collect preliminary data (pretesting) using the Landlords tenants' toilets inventory tool.
Subsequently, the data collected was analyzed and synthesized by KCCA Monitoring and Evaluation team and a draft report produced.
It is against this background that Environmental Alert is organizing a joint meeting with the landlords, Local leaders and KCCA to discuss the preliminary findings and emerging issues from pretesting of the Landlords tenants' toilets inventory tool.
The overall purpose of the meeting is to discuss and validate the preliminary findings and emerging issues from pretesting of the Landlords tenants' toilets inventory tool
The activity is planned to take place on 19th March 2021 at MT.ZION Hotel