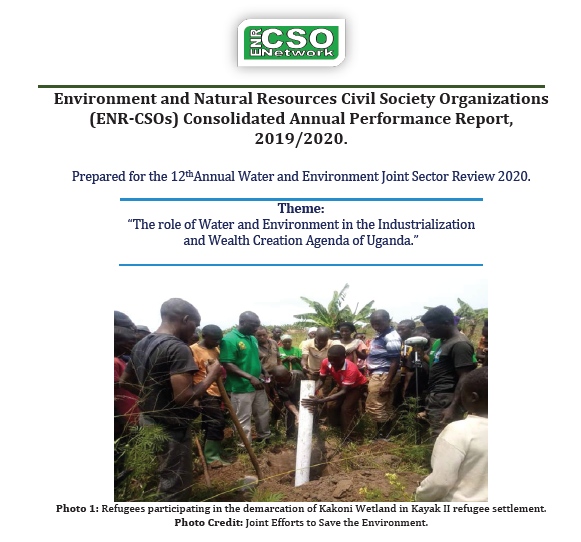 Annually, Civil Society Organizations (CSOs) in the Environment and Natural Resources (ENR) sub sector
organized under their ENR-CSO Network actively participate in the in the generation of the Sector
Performance Report for the MWE. This is always done through self-assessment of their contributions to
the sub-sector and an assessment of the government's performance against the commitments that it set
for itself during the ended financial year 2019/2020. These assessments usually guide stakeholders in
setting the priorities for the Ministry in the new financial year 2020/2021.
Traditionally, outcomes of the self-assessments are presented during the Joint Sector review process
which offers an opportunity for CSOs in the ENR sub-sector to present their annual performance and
contributions to ENR sub-sector during the past year to the stakeholders. The JSR is also a space that
offers an opportunity for CSOs in the ENR sub-sector to engage in influencing the setting of new
priorities on which government's financial resources are spent. Therefore, this process enhances
accountability of CSOs in the ENR sub-sector and offers an opportunity for them to play an active
representative role (for vulnerable and voiceless rural communities) in national policy processes.
However, due to emergence of COVID 19 Pandemic, the JSR for this year may take a different approach
with the restrictions on public gatherings and meetings in place. Environmental Alert, the Secretariat of
the ENR-CSO Network took a lead role in mobilizing the ENR CSOs to participate in the JSR process by
sharing their collective contributions to the sector during the ended financial year 2019/2020. The
contributions are documented in the MWE Sector Performance Report and in the ENR-CSO Position
paper.
Let us monitor enforcement of innovations such as the "Polluter Pays" principle, the Payment for Ecosystem Services (PES) even before the occurrence of disasters likened to the water surge. Find more of the recommendations on how to address wetland degradation challenges in the ENR-CSOs Consolidated Annual Performance Report, 2019/2020