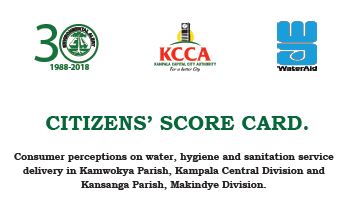 The study was about conducting a participatory assessment and documentation of wash service sustainability monitoring (score card) in Kamwokya…
The study was about conducting a participatory assessment and documentation of wash service sustainability monitoring (score card) in Kamwokya and Kansanga parishes. It was commissioned by Environmental Alert and summarizes findings and recommendations under each chapter. The study focused on the status of Water, Hygiene and sanitation in Kamwokya and Kansanga parishes; community Knowledge, Attitudes and Practices around WASH, community perceptions WASH services by duty bearers; and community's level of satisfaction regarding WASH service delivery.
In terms of water access, the study found that communities have accessed water mainly from National Water and Sewerage cooperation through stand pipe kiosks/taps and pre- paid meter water taps. Water accessed from pre- paid metre water taps (at 25/= and 100/= per 20 litre jerrican for those who have access coins and those without respectively) is cheaper and affordable for those communities from Kansanga and Kamwokya Parishes. The study found that water being accessed by community members from landlords between 200/= to 500/= per 20 litre jerry can is relatively expensive. The price sometimes goes higher when there are water interruptions because there a few
households with water reservoirs. Despite the continuous sensitizations about the dangers of taking un boiled water and use of spring well water especially in Kansanga Parish, the communities are still practicing the unsafe water practices, a situation that has exposed them to water borne related diseases such as typhoid and cholera.
Environmental Alert (EA) in collaboration with National Environmental Management Authority (NEMA), Ministry of Water and Environment (MWE) and Ministry of Agriculture, Animal Industry and Fisheries (MAAIF); and in partnership with Advocates Coalition on Environment and Development (ACODE), and Nature Uganda, is implementing a project dubbed "Strengthening Institutional Capacity for effective Implementation of Rio Conventions in Uganda".
The Rio Declaration on Environment and Development, commonly known as Rio Declaration, was promulgated at the 1992 United Nations Conference on Environment and Development (UNCED), which was later referred to as the Earth Summit.
The World leaders committed in the conference to 27 principles intended to guide countries for future sustainable development. Thus, the declaration was signed by over 170 countries, including Uganda.
The Rio Conventions entail three Multilateral Environmental Agreements (MEAs) on three critical components of environment and these Conventions include:
United Nations Framework Convention on Climate Change (UNFCCC);
United Nations Convention on Biological Diversity (CBD); and
United Nations Convention to Combat Desertification (UNCCD).
The three Rio-Conventions have been designed for action, monitoring and reporting as individually separate multilateral environmental agreements. This is not withstanding the reality that their outcomes and impact affect a common denominator; human, social and economic livelihoods with the sustainable management and use of the earth planet resources.
Uganda as a signatory is obliged to regularly and timely report to the respective Convention's Secretariat, on the actions undertaken or projects implemented and the progress made towards the realization of set targets as well as challenges and the emerging issues therein.
As part of the efforts to mainstream the implementation of these commitments in respect to Uganda as a UN committed member; NEMA on behalf of Government of Uganda received financial support from the Global Environment Facility (GEF) through the United Nations Development Program (UNDP).
As a result, Environmental Alert received funding from NEMA as a project lead on behalf of the CSO partners to roll out the Rio conventions implementation in the pilot districts of   Buikwe, Jinja, Kayunga, Mukono and Wakiso.
Subsequently, an inception workshop was organized to introduce the Rio Convention Awareness Project to the selected District stakeholders and CSOs with mandates on environment and climate change related program. The inception provided the overall basic understanding of the project but also built the stakeholders commitments and support in rolling out the project across the 5 pilot Districts.
The same space was also used to generate and benchmark the status of Rio conventions implementation among the districts in respect to progress, challenges and opportunities. Thus, several challenges were identified. These include; inadequate coordination among stakeholders in natural resources management, inadequate funding, understaffing, inadequate enforcement of environmental laws and others were capacity related.
The awareness workshop will help to address the cross cutting issues among the 5 districts, but will also seek to build human resource capacity at the district to improve response to natural resource conservation and climate change through durable solution and actions within the overall framework of Rio conventions.
Similarly, the workshop will be used as an avenue or space to identify strategic challenge or issues which require policy attention for dialogue with the line government ministries or department in order to ensure that there is a holistic approach and commitment in addressing matters of environment, desertification and climate change in Uganda amongst others.
It's within this context that Environmental Alert is organizing Awareness Workshop on the three Multilateral Environmental Agreements (MEAs) in respect to   Rio Conventions, in order to build the capacity of District stakeholders on selected key issues/ challenges for implementation and integration into District Development plans and policies.
To create awareness and build the capacity of district stakeholders in achieving the aspirations of multilateral environmental agreements (MEAs) and other government commitments in respect to projects and policy implementation.
The activity is scheduled for Friday 8th/11/2019.
Environmental Alert in partnership with WWF-UCO with financial support from NORAD are Implementing a project tiled "Increasing access to sustainable and renewable energy alternatives in the Albertine Graben to conserve high value forest ecosystems to benefit people and nature in Uganda". The project is all about strengthening the capacity of civil society organisations and networks to advocate and drive change towards sustainable and renewable energy access.
One of the projects is 'WWF and project CSOs have provided policy recommendations to government on revision of energy policies.'
In order to achieve that, Enironmental Alert undertook the review of zero draft  Energy policy. The overall purpose was to check whether the draft policy clearly identified and discussed all the key issues in the sector and whether the suggested strategies are effective.
Specifically, the review aimed at:
Identifying the gaps in the draft energy policy;
Proposing suggestions and recommendations for consideration by Ministry of energy and mineral Development in the revised draft Energy policy.
These were synthesized and compiled into a draft CSO position paper to be submitted to Ministry of energy and mineral Development for consideration in the revised policy.
In order to disseminate the findings, EA has organized a validation meeting involving members of the Renewable Energy CSO Network to review the draft CSO position on the Energy policy for submission to MEMD.
The validation meeting is aimed at increasing CSOs participation in the review so as to generate more feasible recommendations with a unified mind and understanding.
The objective of the meeting is for the Renewable energy CSO Network members to validate, agree and prioritize the issues and recommendations before submission to the MEMD for consideration into the ongoing policy review process.
The activity is scheduled for 1st November, 2019 at a venue yet to be identified.