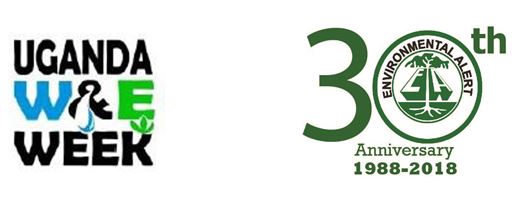 The Ministry of Water and Environment (MWE) in collaboration with key partners will hold its 1st ever Uganda Water…
The Ministry of Water and Environment (MWE) in collaboration with key partners will hold its 1st ever Uganda Water and Environment Week (UWEWK) to coincide with the annual commemoration of the World: World Water Day 2018; International Day of Forests, 2018; and Meteorology Day, 2018. MWE has planned a week long events from 17th – 23rd March 2018 to commemorate these celebrated days. The theme for the UWEWK 2018 is, "Water and Environment a catalyst for achieving Middle Income Status. 2020
Environmental Alert and ENR-CSO network will participate in the UWEWK through rolling out the following interventions: Active participation in the UWEWK week long engagements at the Directorate of Water Resources Management Complex in Entebbe. For instance, Best practices, lessons and recommendations for sustainable environment and natural resources management will be shared with stakeholders at the exhibition stall for Environmental Alert and ENR-CSO Network.
Environmental Alert presents the key messages based on the themes for the International Day of Forests; World Metrological Day and World Water Day. For details
The Ministry of Water and Environment in collaboration with Development Partners is organising the first ever Uganda and Environment Week scheduled for 17th to 23rd March 2018. (See Draft program attached). The new venue for the event is the Directorate of Water Resources Management Complex in Entebbe. Check out the Ministry of Water and Environment Website for details on registration and exhibition. (http://www.mwe.go.ug/), but also the final forms for exhibitions & participants registration and invitation for exhibitors are here attached. consideration and guidance through email: secretariat@mwe.go.ug. The week will host the commemoration of three important International Days: World Forest Day on 21st March, World Water Day on 22ndMarch and World Meteorological Day on 23 rdMarch 2018.
Important documents:
Participant's registration form.
"We reject NEMA Bill, we were never consulted. The bill does not only kill industries but also exposes the environment further since it lucks key inputs such as recycling science", says Uganda Plastics Manufactures and Recyclers Association (UPMRA).
Irrespective of the call to conserve the wetlands by Mr. Cheptoris Sam, the Water and Environment Minister, several acres of swampland in Iganga district have been burnt in preparation for the forthcoming planting season. Among these we have Naigombwa, Namundudi, Namadope and part of the Lumbuye swampy stretch.