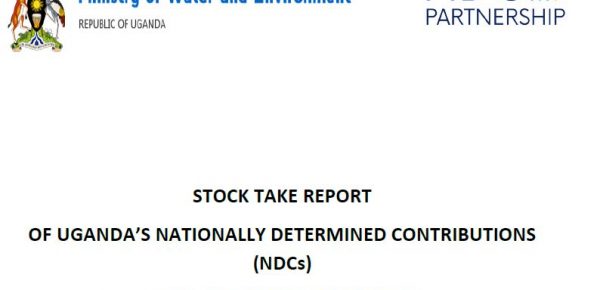 There is a great need to have the climate change Bill passed into law to facilitate the implementation of…
There is a great need to have the climate change Bill passed into law to facilitate the implementation of the country's climate change policy and the NDC.
The capacity of district local governments to integrate and implement climate change actions in all relevant departments ought to be strengthened. The capacity can focus on training, public awareness, resource mobilization and knowledge management systems.
There is need to align the NDC to the country's National and district development plans and budgets to ensure that they are implemented. The government through the National Planning Authority (NPA) is already helping the integration of climate action within the Draft National Development Plan III and the country's Green Growth Strategy has been developed. This should be capitalized on to enhance NDC implementation across the sectors spelt out within the National Development Plan III. The requirement of the MoFPED for all MDA's to budget for climate change actions is an initiative that needs to be deepened.
Implementing climate change actions requires applying multi-level governance approaches and therefore integration and coordination of state and non-state actors is critical. This will require establishment of an NDC sectoral coordination Committee to oversee performance of implementation. National and District Local Government Policies, strategies, plans and budgets need to be reconciled to ensure that there is a shared purpose in climate change actions and development priorities. The alignment of priorities, plans, budgets and activities across governance levels with a purpose of implementing the NDC is crucial.
The Office of the Prime Minister and the MoFPED need to continue developing governance systems that will enhance integration and coordination to ensure that all relevant sectors mainstream climate action and are able to partner with state and not state actors including the private sector.
There is need to develop information and knowledge management system for climate change. This should provide for climate change knowledge and information repository, spaces for engagement and curating of outcomes of climate change mitigation and adaptation actions by state and non-state actors. Details
Climate action should learn from the COVID-19 response nationally and globally. Globally and in Uganda Government's responded urgently and suddenly through issuance of the directives and guidelines. In Uganda these were strongly enforced and have greatly contributed towards prevention of the spread of the virus in the community. Besides, even the population is very responsive in adhering to the presidential directives and MoH guidelines. Furthermore, the COVID-19 pandemic has demonstrated the possibility of mobilizing local action and funding ahead of foreign funding for supporting implementation of Government responses to prevent further spread of the pandemic. Thus, to date about 28 billion Uganda shillings in-kind & cash (out of the targeted 170 billion) has been mobilized into the COVID-19 National Fund. In light of these lessons, the appeal to leaders (i.e. political, technical, religious & cultural) at all levels is that similar focus, commitment and approach should be deployed in the efforts for advancing investments in climate change adaptation and mitigation.
Moving forward, progressive easement of the total lockdown should not only focus on releasing of the sectors and institutions to get back to work, as if the operating environment has not changed. The Government will provide further directives and guidelines to follow by the populace to safe guard public health and contain further spread of the virus. However, it's important that all sectors and institutions urgently consider development and implement post COVID-19 recovery plans, strategies & budgets. However, these should be climate proofed as climate change and associated impacts are still with us and will certainly negatively affect the implementation of these plans. The guidelines for mainstreaming climate change in sector plans, programs and projects, recently developed by the Ministry of Water and Environment are a useful reference for achieving this. Details
By Dr. Joshua Zake (Ph.D.),
Executive Director, Environmental Alert.
Over the years, Nature has been calling for protection but many people have been ignoring it and some have been defending the activities that are being carried out to destroy nature. However, recent disasters have showed that nature is likely to be retaliating and reclaiming its territories. For the last few months, the country has witnessed rising water levels in lakes such as Victoria, Kyoga, and Wamala which have disrupted businesses, destroyed property and displaced thousands of people living and working by its shores both in Uganda, Kenya and Tanzania. The advancing waters washed clear the lake shores and the victims were the fishermen and other communities who depend on the lakes and associated activities for survival of over 10,000 people have been displaced since February 2020 when water inundated the dry lake shores according to the Office of the Prime Minister.
Around Lake Victoria, settlements have been affected with many hotels, beaches and individual houses already flooded. Some of the establishments submerged include Serena-Kigo Hotel, Speke Resort Hotel Munyonyo, Hotel Protea Entebbe, Gaba Beach, K.K Beach, Miami Beach, and several other beaches, markets, Gaba water works, jetties, among others. At the same time, some roads such as Entebbe road were recently cut off by the surging Lake Victoria waters. Essential facilities such as drinking water and sanitation systems, health facilities, among others have been affected. This has increased the risk of infestation of water borne and water related disease incidences such as cholera, dysentery, malaria, and bilharzia in the affected communities. The bulging water level also caused dislodgement of papyrus mats from encroached shorelines resulting into huge mass of floating Islands which are dangerous to hydropower infrastructure. A case in point was observed on 14th April, 2020 when the mass docked at Owen Falls Dam choking turbines and resulting into a temporary National power blackout. Details
By Jolly Kayiita,
Program Assistant,
Environmental Alert.
World Environment Day (WED) was formally designated by the United Nations Environment Programme on 5th
June 1972, the opening day of the first World Environment Conference in Stockholm, and the first World Environment Day was held in 1974. Since then, nearly 150 countries have been involved every year, with activities that range from raising awareness for environmental protection to encouraging action for recycling, sustainable development and consumption, fighting global warming, cleaning up pollution and many other issues.
UN Environment has aided in the formulation of guidelines and treaties on issues such as the international trade in potentially harmful chemicals, trans-boundary air pollution, and contamination of international waterways. The WED 2020 international theme is, 'Time for Nature,' and the national theme in Uganda is, 'Nature is Speaking, Listen.' This year's global and national celebrations are unique because they will follow the new normal presented by the impact of Corona Virus Disease -19 (COVID-19) total lockdown. Thus, the engagements will be conducted online via social media platforms – as opposed to the usual ones over the years held through face to face interactions. The celebrations will be commemorated on 5th June 2020 in Columbia as the global host in partnership with Germany. In Uganda the national celebrations are coordinated by the National Environment Management Authority (NEMA). In this respect therefore, NEMA and partners have organized various engagements in the WED 2020 celebrations.
These fall in the categories of public education; production of information education and communication materials; and media engagement described as follows:
(i) Public education:
a. TV Talk shows-these will be on selected national TV stations;
b. Radio Talk shows in both National and regional radios;
c. Environment messages/Infomercials will be aired on local radios based in the regions;
d. Newspaper supplements published, in the New Vision and Monitor on 5th June 2020;
e. Billboards with WED messages erected in the major entrance/exit routes of Kampala City;
f. E-conference on 5th June 2020, starting at 2:30 Pm.
(ii) Production of Information Education and Communication (IEC) materials including the newsletter,
posters, fact sheets and banners.
(iii) A press briefing will be held in NEMA offices on 5th June 2020 to increase the awareness of the public
about the day.
Notable, the ENR-CSOs and networks will participate in these and own online engagements as part of the
WED 2020 celebrations.
Both the global and national themes are timely because surely Mother Nature is speaking to us. This is visible
with several indicators such as: Climate variability, change and associated impacts such as increasing water
levels in lakes (i.e. Victoria, Kyoga, and Wamala) – that have resulted in flooding and landslides in various parts
of the country affecting over 1000 people;