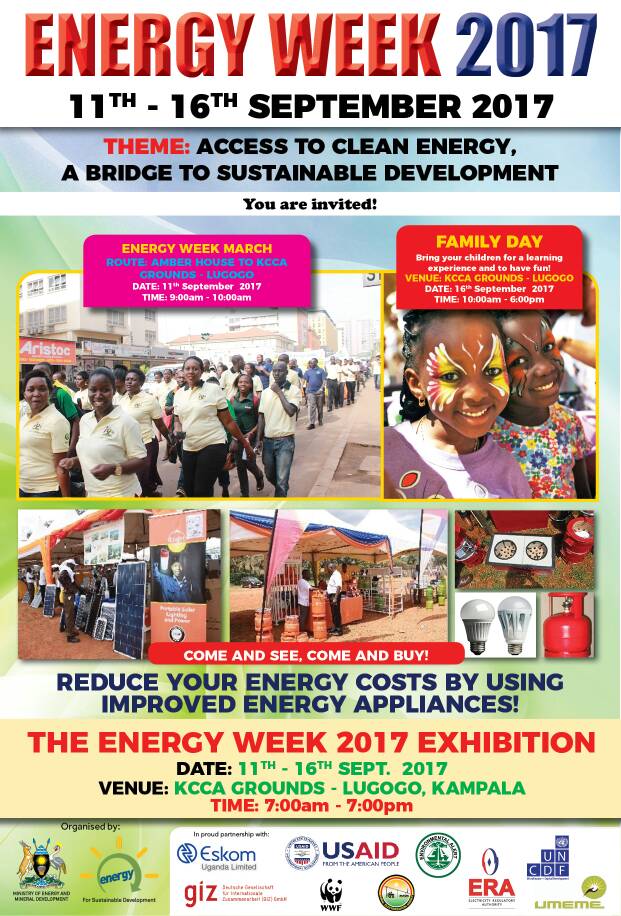 Biomass (firewood, charcoal and crop residues) plays a very significant role in Uganda's energy supply. It contributes about 94% of the total energy consumption in the country. Of the total biomass consumed, wood fuel accounts for about 80%, charcoal 10% and crop residues 4%. Biomass provides almost all the energy used to meet basic needs of cooking and water heating in rural and most urban households, institutions and commercial buildings. Several initiatives to conserve biomass resources have been undertaken by Government, the private sector, and Civil Society Organization. These initiatives include the promotion of improved stoves, as well as afforestation. However, the impact of these efforts is still limited. The energy week therefore has been organized to promote and sensitize the general public about these initiatives and how they can be adopted by the different stakeholders.
The Energy Week (2017) is an annual energy awareness event organized by the Ministry of Energy and Mineral Development (MEMD) and Partners. It's an annual awareness campaign that is aimed at sensitizing the public about efficient utilization of energy and alternative modern forms of clean energy. The theme for year's energy week is: "Access to Clean Energy, a Bridge for Sustainable Development". This event is planned for the week of 11th – 16th September 2017.
Environmental Alert in partnership with World Wide Fund for Nature (WWF-UCO) with financial support from NORAD is collaborating with the Ministry of Energy and Mineral Development to support the energy week 2017.
Key Objective of the Energy week
General objective
To facilitate the exchange of ideas and discussions on pertinent energy related issues, while simultaneously meeting Ministry's mandate of establishing, promoting the development of, strategically managing and safeguarding the rational and sustainable exploitation and utilization of energy and mineral resources for social and economic development.
Specific objectives
To increase awareness of the public on utilisation of Uganda's energy and mineral resources so that they can become better stewards in the utilization of all forms of energy.
To promote a platform for engaging stakeholders and establishing dialogue on the many challenging aspects of energy and minerals sector.
To promote the private sector's involvement in the development of the energy and minerals sector.
To achieve more efficient and coordinated actions of government, private sector and civil society towards increasing sustainable energy use for the development of the country.
To promote the sale and utilisation of renewable energy and energy efficient technologies – this will in turn support the private sector in the promotion of their products.
Demonstrate how energy supports the economy
This year's Energy Week will involve a number of activities (See Table 1.) that are geared towards sensitizing the public regarding efficient utilization of energy and access to clean and modern forms of energy.
Table 1. Activities for the 2017 Energy Week
Activity
Date
Comment
The Energy Week and Exhibition Launch

(marching band which will start from amber House, march down Jinja road and end at the exhibition venue)

11th of September, 2017
Participation is by invitation
Energy Exhibition
12th – 16th September, 2017 at KCC grounds opposite UMA grounds
Participation is Open

Energy Conferences

a)      Future energy Uganda

b)      Biomass Energy Dialogue

c)      Supplementary workshop and energy clinics

13th – 14th September at Serena Hotel

15th September at Protea Hotel 

12th – 16th September, 2017 at the exhibition grounds

Participation is by invitation
Fun Activities

a)      Daily entertainment

b)      Family day

12th – 16th September

16th September

Participation is Open

Publicity Activities

Press Conference, TV and Newspaper Promotions, Road shows, Print media, Internet Advertising

 

Radio talk shows

11th and 12th September on CBS and Radio Simba

Participation is Open

School energy education reach-out campaigns
Participation is Open
For further details, refer to The Energy Week 2017 Concept
Come and see, come and buy