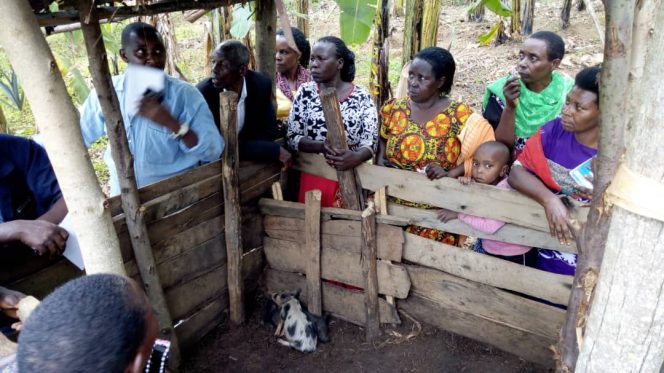 Environmental Alert (EA) is implementing a project on behalf of the Government of Uganda carrying out an assignment to "undertake a market, livelihoods, gender and GBV analysis in 3 districts of Bushenyi, Mitooma and Shema in the South Western Uganda to identify gaps, employment needs and income streams that are resilient to climate change and map on-going initiatives". One of the output under the assignment to environmental Alert Is to support the No-Regret interventions carried out by the wetland adjacent community groups.
During the project stakeholders' inception meeting that was held on 14th August, 2018 at Tuzza Hotel in Bushenyi district, stakeholders from the three project districts were consulted on which groups to consider and three groups were identified from each district that are contributing to the project goal of restoring degraded wetlands
Further consultations were conducted and two groups were chosen for support with each selected beneficiary wetland user group in each district surveys were conducted through focus group discussions, from which discussion key enterprises were selected for support.
In the stakeholder's validation meeting that was held in Sheema on the 14th September, 2018, the stakeholders agreed these key actions that is to say, Apiary, Piggery, Aquaculture, Poultry, Goat rearing, Craft and art, and mushroom growing. as the most suitable enterprises for the support.
It's against this background that EA seek technical support to deliver on these selected Actions on No regret interventions in the three districts of Mitooma, Sheema and Bushenyi.
EA is organizing to deliver a specialized training for the identified No-Regret enterprise training needs to the two (2) selected Wetland user associations from 19th November to 8th December, 2018 in the project districts of Mitooma, Sheema and Bushenyi. These trainings are part of the assignment to EA under the UNDP project; "Building Resilient Communities, Wetland Ecosystems and Associated Catchments in Uganda." Which project aims at restoring the previously degraded wetland resources in those districts (Mitooma, Sheema and Bushenyi).