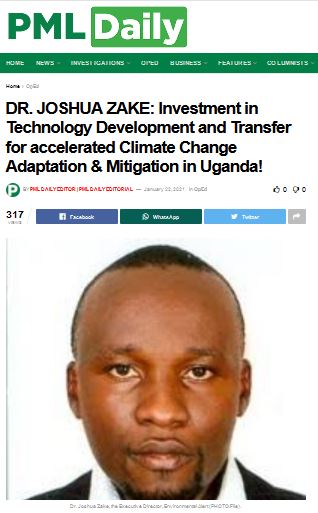 KAMPALA – Technology development and transfer is an initiative by the United Nations Framework Convention on Climate Change (UNFCCC) for supporting the member Countries in advancing climate change adaptation and mitigation through technology.
Furthermore, the UNFCCC instituted a technology mechanism comprising of the Technology Executive Committee and the Climate Technology Center and Network, which facilitates enhanced action on technology development and transfer for supporting progress on climate change mitigation and adaptation. It recognizes the importance of rapid acceleration of transformational changes in climate resilience and greenhouse gas (GHG) emissions reduction.
Climate technology refers to, 'a piece of equipment, technique, practical knowledge or skills for performing a particular activity, (Intergovernmental Panel on Climate Change, 2000). Technology development and transfer is a broad set of processes covering the flows of knowledge, experience and equipment for mitigating and adapting to climate change amongst different stakeholders including governments, private sector, financial institutions, non-governmental organizations and research/education institutional. Its an issue for negotiation among the member states during the annual Conference of Parties (CoP).
Thus, every member state (including Uganda) set up a team of negotiators who deliberate on specific national concerns/interests regarding technology development and transfer. The Ministry of Science, Innovation and Technology is the National Designated Entity for development and transfer of technologies in Uganda. Check full article on  PML Daily Paper, or  Download

The author, Dr. Joshua Zake (Ph.D.) is the Executive Director, Environmental Alert.
P.O. Box 11259 Kampala, Uganda; Tel: +256414510547; Email: ed@envalert.orgor joszake@gmail.com