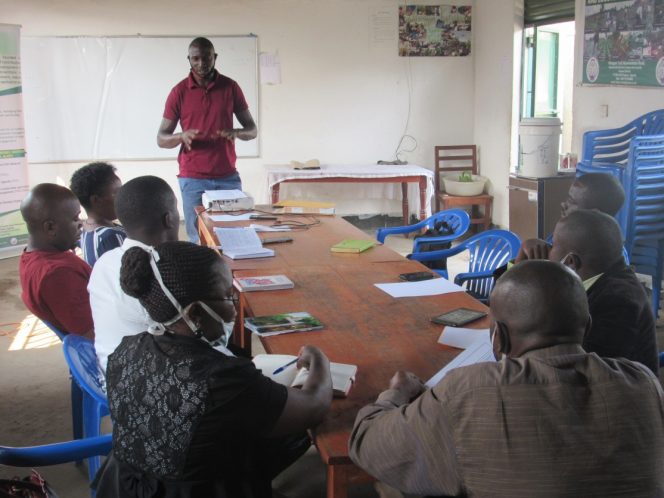 Environmental Alert in partnership with WWF-UCO with financial support from NORAD is implementing the second phase of the Clean Energy Project with a goal of "Communities living in the Albertine Graben have adopted sustainable and renewable energy alternatives to reduce dependency on biomass for their energy needs".
The project is implemented jointly with four other partners; at National level;-in collaboration with UNNAC and at Sub national level with MASEN hosted by KISON in Kagadi district , SASEN hosted by KIMA Foods in Kasese district  and NASEN hosted by RICE-West Nile in Arua district.
One of the key outputs EA is charged with; is to build capacity for various CSOs and Networks through trainings and mentorship aimed at building consensus to jointly implement structured engagements that contribute to uptake of Renewable Energy Technologies at national and local level.
In order to achieve this output, constant mentorship and guidance has always been given to various CSO members under the RE-CSO network and an additional specific trainings in M&E and Lobbying and advocacy was delivered to 31 CSO members in November 2019 and 39 CSOs were also trained in Budget tracking and Analysis in July 2020. It is expected that these CSOs members translated the knowledge and skills they got during that trainings to develop Advocacy plans and have also started to engage in advocacy issues at their organizational levels in a more structured manner, furthermore it is expected that they are Monitoring &Evaluating their interventions especially the  advocacy and lobby ones in a more structured . It is also expected that members have developed action plans for their organization after the training in budget tracking.
It's against this background that the Monitoring Evaluation and Learning team with support from the ENR technical team organized this monitoring and support visit to document the extent to which various CSOs within the project area are applying the knowledge and skill they got but also to provide technical backstopping to those CSOs that are finding problems in applying these skills.
In this context the team also documented best practices that CSOs are doing in regards to Advocacy and Lobbying as a results of the skills and knowledge they got from the training and mentorship EA provides. At the same time various challenges they are faced were documented and remedial actions and recommendations will be given to reduce or stop the challenges. It is expected that lessons learnt from this visit will help guide further capacity building initiatives.