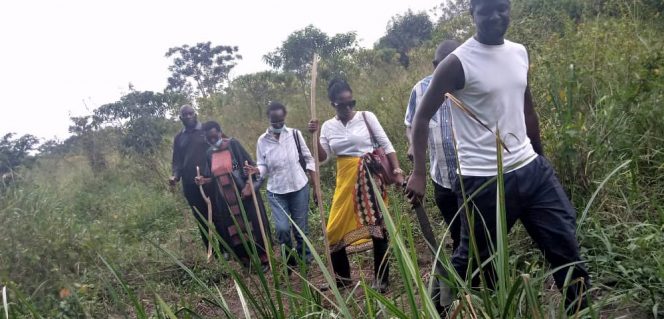 EA is establishing an Agribusiness and Incubation Center on a 9.48 acres piece of land at Kyevunze village in Wobulenzi in Luweero district off Bombo road. Currently the center has various crop enterprises including: eucalyptus, bananas, and coffee. The objective is developed it as a self-sustaining entity for income generation and demonstrating appropriate environment and natural resources management technologies, innovations and practices to the community and the wider public. Currently, plans to build an administration Block are under way that will ease development/establishment of the Centre.
During the last Board meeting held on July 3,2020 at Environmental Alert Board Room, EA-ABIC was discussed and showed the need to expose the board to the Centre to enable them provide concrete advise and recommendations. On this note, the meeting resolved that board members should visit the Centre on August 6, 2020.Its therefore, against this background that the secretariat organized a cutesy visit on August 6, 2020 for Board members.
Objective of the Visit.
The main objective of the visit was to get the Board members exposed to the EA-ABIC so that they can appreciate the strategic direction for ABIC, current challenges and ongoing operations
Proceedings.
On august 6,2020 all board members and some Environmental Alert staff went to Environmental Alert Agribusiness Centre (EA-ABIC) to appreciate what was being done at the Centre. The visit took Nine (9) participants that is seven Board Members and two Environment Alert staff both men and women (4 male and 5 female).
It was an interactive session that involved a transect walk on the Centre to appreciate the activities taking place. The participants were so happy with the developments especially eucalyptus trees which they looked at as an income generating activity to support further developments of the Centre.
This was followed by focus group discussion, where Mr.Kiryowa made a presentation on the genesis of ABIC and where it was going. In his presentation, he mentioned that, the organization was constructing staff quarters and sanitary facilities which had reached the wall plate, clearing the land following the settlement of the staff near the Centre. Visit EA-ABIC page