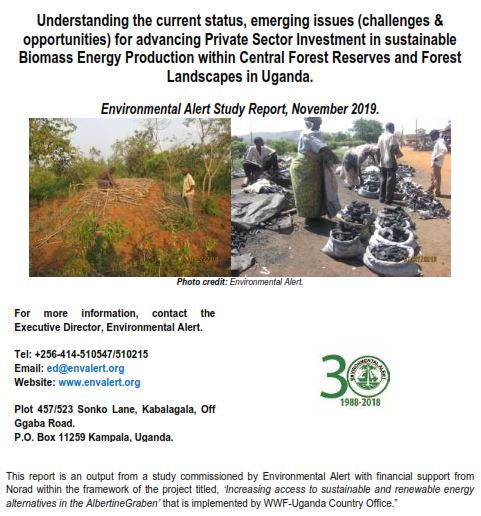 Several constraints were identified as limiting the advancement of private sector investment in sustainable biomass energy production. These include information gap, low priority, inadequate capacity of responsible institutions and players, limited investment and market based-  incentives; lack of biomass energy standards, low adoption of efficient biomass energy technologies, land tenure system, weak governance arrangements and lack of clear financing mechanisms. Fuel wood use is said to be the cause of deforestation and health related pollution. This is not entirely correct because much of the fuel wood is obtained as a result of clearing land for agriculture expansion, settlements, urban or infrastructure development and harvesting of timber and poles. Pollution in households and charcoal production can be averted by application of efficient biomass energy technologies. Biomass is a renewable resource which can be utilized in perpetuity unlike fossil fuels.
Changes to improve biomass energy production and some policy recommendations and practical actions to achieve sustainable biomass energy production have been suggested. These include increased funding, access to information, communication and skills development, decentralized planning, integrated and coordinated implementation, improved regulation and law enforcement, institutional capacity, investment incentives to private sector, research and development and gender equity. These policy changes will provide a conducive environment for private sector investment in biomass energy production and related efficient use technologies. They will also improve the institutional capacities for planning, implementation and monitoring.
Conclusively, the use of biomass energy by the population and industry will remain significant in the mid to long term requiring that the country adequately plans for the sustainable production of this important resource. This calls for changes in the policy, legal, financing and institutional arrangements to address the barriers that limit sustainable biomass production. Therefore, government should give priority to biomass energy and private sector involvement, coordination of MDAs responsible for energy, legal regulatory matters and biomass energy information, institutional, financial and gender aspects.