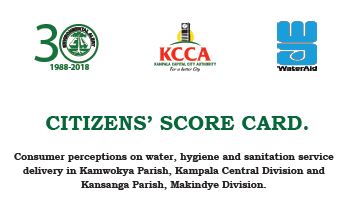 The study was about conducting a participatory assessment and documentation of wash service sustainability monitoring (score card) in Kamwokya and Kansanga parishes. It was commissioned by Environmental Alert and summarizes findings and recommendations under each chapter. The study focused on the status of Water, Hygiene and sanitation in Kamwokya and Kansanga parishes; community Knowledge, Attitudes and Practices around WASH, community perceptions WASH services by duty bearers; and community's level of satisfaction regarding WASH service delivery.
In terms of water access, the study found that communities have accessed water mainly from National Water and Sewerage cooperation through stand pipe kiosks/taps and pre- paid meter water taps. Water accessed from pre- paid metre water taps (at 25/= and 100/= per 20 litre jerrican for those who have access coins and those without respectively) is cheaper and affordable for those communities from Kansanga and Kamwokya Parishes. The study found that water being accessed by community members from landlords between 200/= to 500/= per 20 litre jerry can is relatively expensive. The price sometimes goes higher when there are water interruptions because there a few
households with water reservoirs. Despite the continuous sensitizations about the dangers of taking un boiled water and use of spring well water especially in Kansanga Parish, the communities are still practicing the unsafe water practices, a situation that has exposed them to water borne related diseases such as typhoid and cholera.