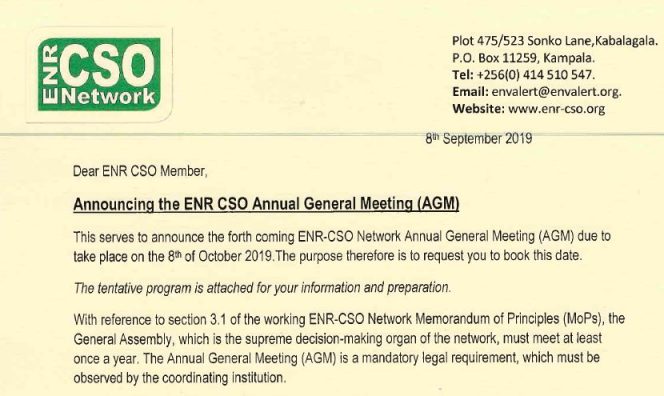 This serves to announce the forth coming ENR-CSO Network Annual General Meeting (AGM) due to take place on the 8th of October 2019. The purpose therefore is to request you to book this date.
The tentative program is attached for your information and preparation.
With reference to section 3.1 of the working ENR-CSO Network Memorandum of Principles (MoPs), the General Assembly, which is the supreme decision-making organ of the network, must meet at least once a year. The Annual General Meeting (AGM) is a mandatory legal requirement, which must be observed by the coordinating institution.
Therefore, this year 2019 the Steering committee alongside the secretariat is planning to hold an AGM to bring together all stakeholders to interact on critical emerging issues pertaining to the group and the sector in general as well as agree on actionable recommendations to address them. The AGM is tentatively proposed for 8th October 2019, details of the venue for the meeting shall be communicated in due course.
The AGM will be a platform for sharing the annual performance reports both technical and financial and future plans, adoption and approval of the 10 year strategic plan (2019-2029), reflection on membership, institutional and governance issues, review of the MoPs, fundraising and resource mobilization among others.
Minutes from the previous AGM, the SP document and any other supporting documents to this process,
Program shall be shared in due course.
Thank you in advance
Yours,
J0SHUA ZAKE (PhD)
Executive Director,
Environmental Alert,
Cc, Chairperson ENR CSO Network,